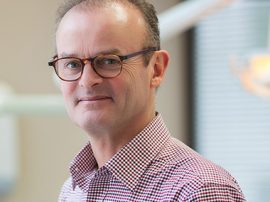 Dr Paul Hammans
MD, DDS, PHD(Med), PHD(Dent), FGAOMS (Ger)
I'm Paul Hammans, and I come from Germany. I graduated from the Medical School of the University of Bonn in 1983 and completed my PhD in Medicine one year later. After attending Dental School I graduated in 1989 and completed my DDS thesis in 2000.
I started my surgical training in Neurosurgery in 1984 and switched to the Clinic for Oral and Maxillofacial Surgery in 1989. I completed my training and received my certificate for Oral and Maxillofacial Surgery in 1993. I worked in private practice near Düsseldorf from 1994 with my main focus in Implantology.
In 2005 I moved with my family to Australia and started working as a specialist at Canberra Surgicentre. In 2009 I became a citizen and moved my family to Sydney where I practice from our Bondi Junction and Balmain rooms as well as Canberra and the South NSW Coast.
I spend most of my leisure time with my wife and our three growing kids. My interests include travelling, golf and tennis.
---